DOMAINE CHARVIN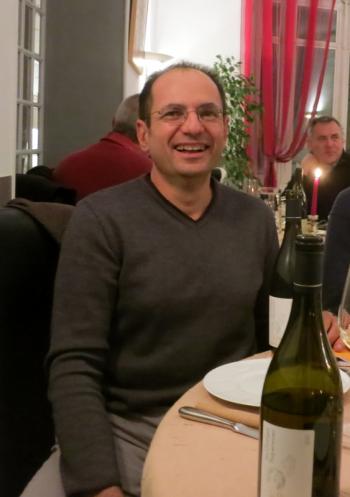 LVT 2019 r 2019 wh 2019 rosé An excellent STGT source. It has been officially organic since 2011, but dad Gilbert was already very hands-off in the vineyard in the bad old, spray happy days of the 1970s. There is vat only raising, no oak. Laurent, 50 in 2019, is one of life's Eternal Questors. It is one of the unsung top addresses, the quality super consistent, the authenticity of the wines beyond reproach. The 8 hectares are in the North-West of the appellation, mostly on Les Cabrières, where north-facing soils aid freshness, something especially noticeable in the otherwise hot sun vintage of 2019. Unusually, 5% is early to mid-1960s Vaccarèse that grows in sand. It has a similar maturity to the Grenache [but is lower in degree], and brings a violet hue to the robe, and a finesse, subtle fruit to the palate.
Among recent vintages, the ***** 2016 Châteauneuf-du-Pape red can be a major wine from that excellent vintage, while the 2015, 2017 [iron and freshness distinguish it from many peers] and 2018 [STGT] are all ****(*) wines, as is the 2019, with a correct vintage imprint each time. There is a very good, long-lived Côtes du Rhône red as well, the 2016 an exceptional, well-structured STGT ****(*) wine.
From 2015 there has been a white Côtes du Rhône, and from 2016 a little over 1,000 bottles of Châteauneuf-du-Pape white, composed of 80-95% Clairette rose dating from 1968; the Clairette rose immediately gives an off piste character to the wine. The 2016 was a ***(*) wine, 2017 and 2018 both ****.
Laurent et Isabelle Charvin Chemin de Maucoil 84100 Orange
Tel: +33(0)490 34 41 10
http://www.domaine-charvin.com
Countries exported to:1) USA 2) GB 3) Germany
Percentage Exported: 70%
British Importers: Vine Trail The Poland Building Aardman Animations Gas Ferry Road Bristol BS1 6UN +44(0)117 921 1770 www.vinetrail.co.uk enquiries@vinetrail.co.uk Laytons London
USA Importers: Weygandt Selections PO Box 175 Rhinecliff NY 12574 +1845 516 4175 www.weygandtselections.com info@weygandtselections.com