DOMAINE JULIETTE AVRIL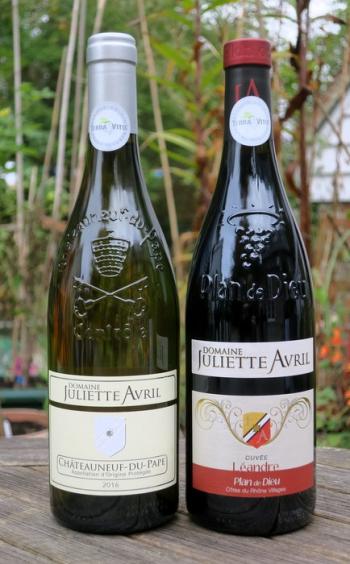 LVT 2019 r 2019 wh Modern Châteauneuf-du-Pape in style: if you want a great drop of fruited, early drinking Châteauneuf-du-Pape red for a party when the wine is two or three years' old, this is your address. The domaine now works under the Terra Vitis – officially reasoned agriculture – banner. These are brightly fruited red wines that show well in free running years such as 2014 and 2011, likewise in more solar years such as 2019, with good fruit emphasis still,achieved; the 2016 Châteauneuf-du-Pape red was a fun-filled **** w.o.w. wine, with delightful fruit for early drinking, while the 2017 was also ****, being cool and carrying a genuine garrigue inflexion, the 2019 picking up the **** w.o.w. baton as well.
The limited edition Châteauneuf-du-Pape Maxence red 2017 was a *****, authentic wine. The Châteauneuf-du-Pape white is based on Grenache blanc on sandy soils, and drinks well, the 2017 an expressive **** wine. There are also good, sound Ventoux reds, an easy drinking, early bottled Cairanne, and a jaunty Côtes du Rhône red from clay, sandy soils.
Marie Lucile, son Stéphan Brun 8 avenue Louis Pasteur 84230 Châteauneuf-du-Pape
Tel: +33(0)490 83 72 69
Percentage Exported: 40%
British Importers: Promotion Line Ltd Thorington Street Stoke-by-Nayland Colchester Suffolk CO6 4SP
USA Importers: Louis Glunz Wines Inc 630 Margate Drive Lincolnshire IL 60069 +1847 793 0800 www.glunzwines.com Jerome Selection 51-02 Vernon Blvd Long Island City NY 11101 +1646 345 7223 www.jeromeselection.com info@jeromeselection.com Cutting Edge Selections 5801 Mariemont Ave suite 200 Mariemont OH 45227 +1513 561 8555 cuttingedgeslections.com