DOMAINE ANDRÉ MATHIEU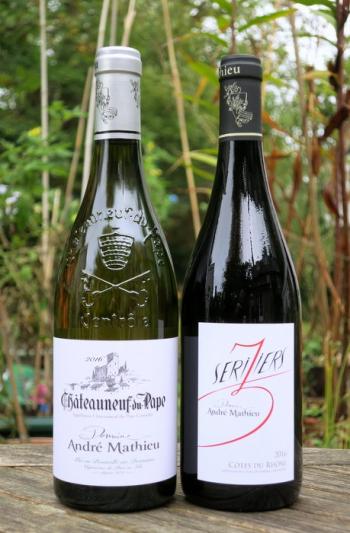 LVT 2019 r 2019 wh 2011 rosé A very good address, often STGT wines, too. Fair pricing. The special Vin di Felibre d'Anseume Mathieu red is a very consistent Prestige wine, rarely below ****; it is based on 1952-1982 Mourvèdre from two distant sites, Colombis, cool grey-brown soils with sand, in the West and Pignan, sandy soils, in the North-East, so takes a firm route from its variety, and therefore handles its oaking.
The Châteauneuf-du-Pape La Centenaire red is sourced from the oldest vines, 80% Grenache 1890-1910, grown on a mix of galet stone soils and sandy soils; it was first made in 2015, and comes with good heart and garrigue implications, no new oak used.
The 2017 white, 50% Clairette, 40% Grenache blanc, delivered a stylish **** STGT wine, the ***(*) 2018 being light and aperitif-like, by contrast. For years the domaine was called Domaine Mathieu, until the split after the 2014 vintage of the two brothers, Jérôme (his domaine now called Saje) and André
André & Cécile, daughter Coralie Mathieu 3 bis route de Courthézon BP 32 84231 Châteauneuf-du-Pape Cedex
Tel: +33(0)490 83 72 09
http://www.domaine-andre-mathieu.com
contact@domaine-andre-mathieu.com
British Importers: Caves de Pierre London (Tradition red)
USA Importers: Savio Soares Selections 10 Jay Street suite 722 Brooklyn NY 11201 +1718 797 4114 www.saviosoaresselections.com/france/#domaine-93/ savio@selections.com