VIGNOBLES LEVET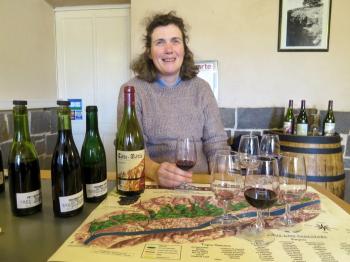 LVT 2019 r 2020 wh An STGT domaine. The outlook is traditional, with a hands-off style in the cellar exercised by the unassuming Levets. Vineyards could be more naturally worked. The winemaking is geared towards old-style depth, and earthy flavours. La Péroline, known in USA by its actual plot name of Chavaroche, is excellent, nad carries the best tannins of the three Côte-Rôties.
I have the impression that the maximum temperature of fermentation has come down from being allowed to go 32°C to a steady 29°C, which has helped the quality of the fruit recently. With the hot vintages of the late 2010s, more stems are being included. The wines take time to come together, but are very rewarding, and always offer classic floral touches. I find a very coherent progression starting with the Améthyste and going up to to La Péroline aka Chavaroche, via Maestria (Les Journaries in USA) en route.
The arrival of daughter Agnès has also represented a good extra impetus for the future. From 2019, there has been a 1,500 bottle Condrieu, the result of a vineyard exchange with Domaine Richard at Chavanay - the 1990s La Maraze vineyard at St Michel-sur-Rhône. Its style is traditional, the 2020 superior to the 2019.
The family also hand make an excellent, thorough tasting apricot juice from their Bergeron apricots across the River on the plateau in the Isère. Nicole Levet, Bernard's wife, a Chambeyron, very sadly died of cancer in 2014.
Bernard, daughter Agnès Levet 26 Blvd des Allées 69420 Ampuis
Tel: +33(0)474 56 15 39
Countries exported to:1) USA 2) GB 3) Sweden, Quebec, Denmark, Belgium - 2009: 1) USA 2) GB 3) Belgium, NL
Percentage Exported: 30%. 2009: 25%, up from 20%
British Importers: A & B Vintners Little Tawsden Spout Lane Brenchley Kent TN12 7AS +44(0)1892 724977 www.abvintners.co.uk info@abvintners.co.uk Germany: Finkenweine Dr Lutz Krämer Kaulbachstr.6 14612 Falkensee +49 3322 232501 +49 177 7191700 www.finkenweine.de info@finkenweine.de
USA Importers: Neal Rosenthal 56-43 58th St Maspeth NY 11378 +1800 910 1990 www.madrose.com info@madrose.com