2000s and 2010s of NORTHERN RHÔNE, SOUTHERN RHÔNE, WHITES
A VINTAGE BY VINTAGE SNAPSHOT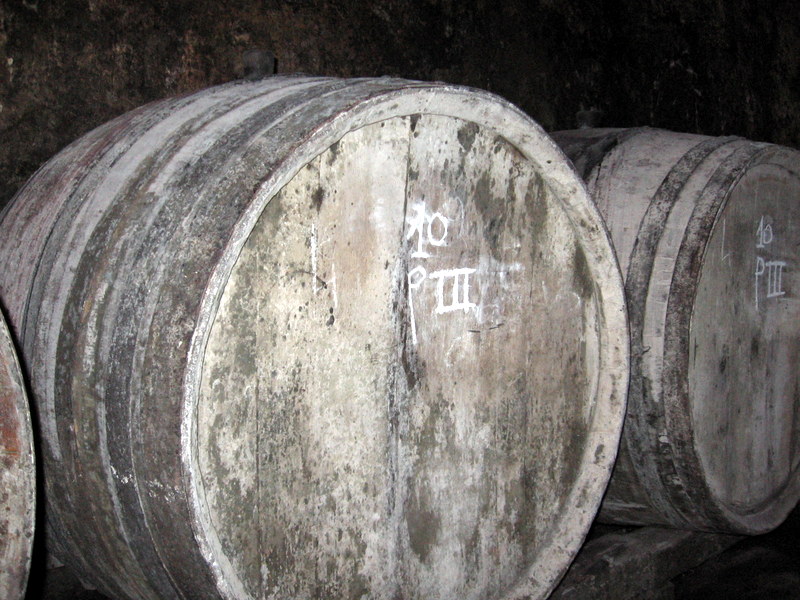 2010: NECTAR FROM THE HEAVENS, THE GRENACHE RAYAS III FROM CHÂTEAU RAYAS, THE HEART OF ITS VINEYARD, CHÂTEAUNEUF-DU-PAPE, DECEMBER 2011
With a mostly healthy and abundant harvest safely gathered in for 2020, the third decade of the millennium is up and running. It's a good time to cast a look back over the first two decades, to gauge quality in runs of 10 years. Which was the better decade?
THE 2000s
2000 A mild vintage, soft tannins, approachable wines, aromatic in the NORTH; correct in the SOUTH, but a large crop diluted some of the REDs. There is less style in the fruit than 1999. It's a vintage short on real stars, a slippers beside the fireplace year.
N RHÔNE 6, S RHÔNE 6 WHITES 7
2001 A fresh year, with bite in the tannins, lively fruit, required time to come together. Slow to ripen in the NORTH, but pedigree structure in the REDs. Good, live wines in the SOUTH, plenty of drive, growers dropped excess crop this year, learning from 2000. There is more character, more spark, more length than 2000. They are in good shape now, with more to come.
NR 9 SR 8 WHITES 8
2002 Oh dear. So much rain and desolation around harvest time, with rot and high loss of harvest. A Wake-Up year when growers had to get out, think and act, and not be lazy or formulaic. Decent ST JO from around CHAVANAY, some good CORNAS. Chaptalisation on the agenda. BUT – a sound WHITE wine year, buoyed by acidity levels, and good for a later date harvested vineyard such as GIGONDAS, for example, in the SOUTH. NR 4 SR 4 WHITES 6
2003 An out of the loop year due to the canicule of extreme, prolonged heat. High sugar levels in the crop. Wonky balance due to the extremity. Jam on the menu. Initially dry tannins subsided to some extent. The surprise has been that the wines have lasted better than expected, and not fallen into a drab, messy, fatigued hole, even the SYRAHs of the N RHÔNE.
NR 7 SR 7 WHITES 6
2004 Modest year for reds, excellent year for WHITEs. Vineyards were often tired after 2003's weather onslaught. Ripening was late, uneven. The wines can lack stuffing, but the best are stylish, tender. A cosy, slightly simple year, drink entre les bons amis. A coming of age vintage for the WHITEs, as growers started to believe in them, and therefore lend them greater attention.
NR 6 SR 7 WHITES 9
2005 Chunky, tannin-laden year, on the wild side, dark colours, energy, boom. Wines of character, demanding cellar time, can be stubborn. Not for the boulevardier consumer, more for the philosopher, probably a Nordic such as KIERKEGAARD. Still making their way. Decanting essential. High intervention winemaking - in pursuit of 100 points - in the SOUTH means the NORTH shades it. Firm WHITEs, capable of longevity.
NR 9 SR 8 WHITES 7
2006 Delightful fruit, free wheeling, fresh wines from their first days in the SOUTH, style in the tannins, too. Then a tightening up, then a blossoming. In the NORTH, complex, reserved wines to start with, needing time, hold good structure for the long haul. A vintage overshadowed by 2005, unfairly, and by 2007, also unfairly in the SOUTH. They have been drinking very well recently.
NR 8 SR 8 WHITES 8
2007 Hefty, full scale year in SOUTH, windswept concentration, high degree, can be hard work. A bullying sort of year, emphatic. GIGONDAS preferred over CHÂTEAUNEUF. Not a vintage I have much of in my cellar. Tidy year in NORTH, more open and accessible than 2006, stylish wines that have gained depth with age. NR 7 SR 7 WHITES 7
2008 A lesser year due to poor weather, and wet conditions, and a vineyard in the SOUTH that struggled to replenish its reserves of water after the drought of 2007. CORNAS fared quite well, with less rain than HERMITAGE. There are wines of interest, clarity, helped by improving harvest selection and winemaking. Good WHITES.
NR 5 SR 4 WHITES 8
2009 Big, sunswept vintage, dense packing, concentration. Thank goodness for the 2008 rains and their contribution to the water table. Richness and ripeness in the glass, degrees creeping up in the NORTH, partly offset by high yields. The vintage is darker and denser than 2005, but also bears a high tannin content, the tannins a touch more polished than 2005's. In the SOUTH, the clay soils of RASTEAU set up a major vintage there, while there were good, muscular offerings from the REDs of CHÂTEAUNEUF and GIGONDAS. Time required. Deep WHITEs that in 2020 are great à table. A much acclaimed year at first, as it followed 2008. Then came 2010…
NR 9 SR 8 WHITES 8
TOTAL FOR DECADE N RHÔNE 70 S RHÔNE 67 WHITES 74
THE 2010s
2010 All that you could wish for: balance, balance, balance, with filling, freshness, length, potential, longevity, both NORTH and SOUTH. Fresh nights a secret weapon in the SOUTH. Real flair, wines that will be quiet at times, but the best will be booming along around 2030, and a jereboam of HERMITAGE, RED or WHITE, would be a magnificent treat for a special anniversary; if not, a magnum. Excellent WHITEs also.
NR 10 SR 10 WHITES 9
2011 Bump! Back down to mortal levels. High degree, dodgy structure in the SOUTH, and lack of vivacity in the wines as a rule, wines with open, mild fruiting. HERMITAGE good, terroir in the wines, CÔTE-RÔTIE more rain, difficult ripening. One of those "forgotten cousin" vintages when they turn up at your door when you're not prepared for them. Oh, oh. Not much in LA CAVE LIVINGSTONE.
NR 6 SR 5 WHITES 6
2012 A tinkling year of good freshness, enjoyable fruit, lots of really drinkable, very expressive wines that are ageing with interest, and showing fine nuances as they do. The first vintage in 20-plus years when CHÂTEAUNEUF showed signs of easing back on extraction. Good WHITEs. I hope you stocked up.
NR 8 SR 8 WHITES 8
2013 Absolutely a difficult year for passing trade due to the high tannic incidence from the dry conditions. Moi: je les aime! Time is all they need, as their acidity wraps within. The REDs are complex, stimulating, well filled, fibrous at first, with a preference for the SYRAHs du NORD, wines that are not yet ready at all. Large loss of GRENACHE from coulure in the SOUTH, what remained took a painfully long time to ripen. Hence there are atypical blends. It's a pesky sort of year that the cognoscenti would enjoy discussing over a BYO luncheon, one day. The WHITEs are pretty fresh, direct, notably the MARSANNE blends that beat the VIOGNIER.
NR 8 SR 7 WHITES 7
2014 Pests and flies, and rot, but you know what – there are some very pretty wines, so while most amateurs of body building felt cheated, I felt happy. Beautiful fruit in the best REDs, a serenade from CHÂTEAUNEUF-DU-PAPE CLOS DES PAPES, for example, and great WHITEs. A classic vintage – still – for la table, relaxed moments, Glou Glou on the go.
NR 6 SR 6 WHITES 8
2015 A mighty year in the NORTH, with large scale, abundant REDs, dazzling depth, heft in the tannins. The SYRAHs have tightened up recently, and must be left alone for another five years. It's a quieter vintage in the SOUTH, where late rain, followed by MISTRAL wind, came in early September to nourish the vines. Slow ripening, high degree GRENACHE, excellent MOURVÈDRE. Extraction in the cellar was a punishable offence. There is freshness, with tannins a little dry here and there, robust packing in the REDs.
NR 9 SR 7 WHITES 8
2016 Fantastic in the SOUTH via a fabulous quality harvest, the GRENACHE and acolytes including CINSAULT, COUNOISE, TERRET NOIR all strutting their stuff. Exceptional ageing potential, full, balanced wines. Top WHITEs there, too. The NORTH gave a late, beautiful, BURGUNDIAN vintage with first class fruit and interesting structures. Top vintage for the fresh, balanced WHITEs. Large style divergence between the BIG SOUTH and the ELEGANT NORTH, but both roads were lined with les jolies choses.
NR 9 SR 10 WHITES 10
2017 A drought year marked the wines, notably in the SOUTH, where tannins can be dry, spoiling content that starts well on the palate. Some areas such as VISAN - higher vineyards - did well, carry good balance. GIGONDAS ahead of CHÂTEAUNEUF this year for the same reason, and lots of finesse and enjoyment available from CAIRANNE. In the NORTH, the REDs are low acidity, rather solar, filled-up wines, with the best terroirs showing exactly why les anciens got their classifications right – they are the wines of best balance, detail and intricacy. Cosy, facile wines from the lesser zones. Harvesting in the NORTH was two to three weeks ahead of 2016, so the two vintages stand in sharp contrast – the former airborne, the latter grounded. The WHITEs surprised with their tidy richness, no sprawl, at CHÂTEAUNEUF, a very good year there, with top terroir the decisive factor. They could be overdone elsewhere in the SOUTH, no surprise. Much better for the MARSANNE blends than CONDRIEU in the NORTH.
NR 7 SR 8 WHITES 7
2018 A rockabilly, large scale, successful vintage in the NORTH, lots of dark density and close packing in the SYRAH wines, harvested in high heat; high degree and pronounced ripeness, some risk of Volatile Acidity here and there. It's ahead of 2017 through flamboyance rather than refined balance. A tricky, tricky year in the SOUTH, industrial amounts of mildew at CHÂTEAUNEUF-DU-PAPE, uneven ripening, a vintage for careful selection from trusted names - if they made/issued wine [RAYAS didn't]. It's a good, wholesome year for LIRAC REDs, less mildew there than across the River. Paradoxically, the VINS DE FRANCE, especially ARDÈCHE VINS NATUREs, CÔTES DU RHÔNE REDs – the base of the pyramid – offered instant, gratifying fruit, really convivial wines. Good WHITES at CONDRIEU, ahead of 2017.
NR 8 SR 7 WHITES 8
2019 A beefcake vintage after yet another long, dry summer, with pockets of high heat. Rain – quantity, timing – was a vital ingredient. In the NORTH, CÔTE-RÔTIE lucked out in August, while CORNAS and the Southern areas lacked the injection of energy provided by the rain. Top, dazzling year, thus, at CÔTE-RÔTIE; elsewhere firm wines, tannins dense, but plenty of promise, degree higher than 2018. In the SOUTH, a mighty year for GRENACHE which was a firm bedrock for all the wines, which are charged, concentrated, long, imposing. Nifty work required in the blending cellar to weave MOURVÈDRE, CINSAULT into the mix to aid structure and freshness. The REDs should live well, much longer than the 2018s. A very good, table-friendly vintage for WHITEs, despite the hot year profile.
Provisional for now: NR 8+ SR 9? WHITES 8
TOTAL FOR DECADE N RHÔNE 79+ S RHÔNE 77 WHITES 79
The 2010s vanquish the 2000s, therefore. Improved care in the vineyard, more active management and study of soils and individual parcelles start the ball rolling. A more analytical approach, perhaps, with a subsiding of intuitive care and winemaking, both so important in the grand scheme of things.
Greater organic care, reduced chemical use. More precise harvesting dates, greater flexibility according to the needs of the situation, so night harvest, or rapid very large team harvesting as sugar levels soar. Less extraction in the cellar, greater mastery of oaking, less homogeneity from increased use of wild yeasts.
Better facilities, vibrating sorting tables, cooling equipment, softer pressing, pumping. Bottling under closer control. Improved corks or substitute closures.
And climate: more regular ripening, even if the 100 day rule from flower to harvest is often no more, indeed much less.
Note two stand-out vintages in the SOUTH, 2010 and 2016, which camouflage some more challenging years in the overall scores for the 2010s. Good consistency in the NORTH, in keeping with the new, sometimes feverish demand for its wines. Its last NORDIC, cool year was 2016, an outlier splitting the hot, powerful vintages of 2015, 2017, 2018, 2019 and 2020.
The challenge for the 2020s centres on two words: BALANCE, FRESHNESS.