2015 NORTHERN RHÔNE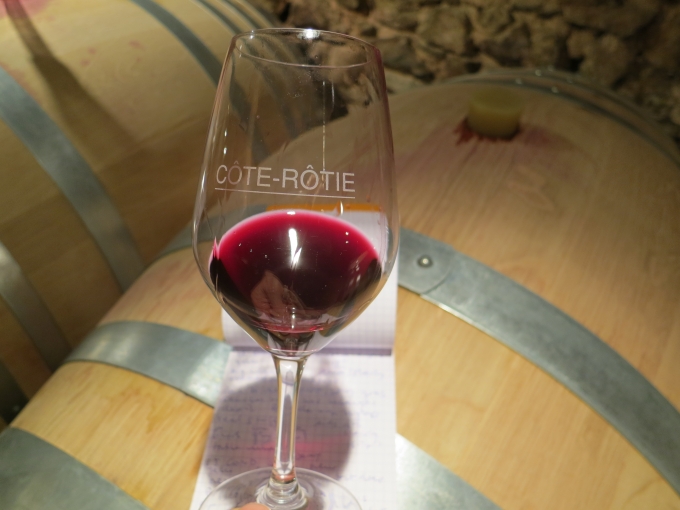 27 OCTOBER 2015, CHEZ STÉPHANE PICHAT AT CÔTE-RÔTIE, A FIRST GLIMPSE OF THE NEW VINTAGE'S WINE AND ITS BOUNTIFUL ROBE: A FRISSON OF EXCITEMENT AT THE POTENTIAL FOR 2015
The hounds were out barking about the quality of the 2015 northern Rhône soon after the crop was delivered to the cellars high and low, big or small. With MARCEL GUIGAL volunteering to me that it was the vintage of his lifetime, there was pretty much no chance that this vintage could have a gentle introduction to the public.
What struck me immediately when tasting the red wines was how complete they were, so early. So a few scribbles in my Rhodia notebook were replaced by coherent sentences and descriptions. This state of affairs lasted, as well, into when the wines were months, not weeks, old.
The reds are full-bodied, packed with content, and are not hard to get into. For those who do not know the Rhône well, they are wines whose virtues can be assessed and enjoyed without much obstacle. They should live well.
It has been a more tricky vintage for the whites thanks to the sustained heat in periods, and therefore the contrast with the crystalline 2014s is large. Please log in to read reports that will come on stream gradually, now that most of the tasting notes have been entered under the many domaines, whose wines have been tasted from late 2015 until October 2016: either use the Search engine with vintage 2015 and the name of an appellation, or look for the LVT 2015 r or LVT 2015 wh signal next to a domaine's profile – Last Vintage Tasted 2015 red or Last Vintage Tasted 2015 white.