THE OLD BOYS REUNION: HERMITAGE LA CHAPELLE FROM THE SECOND WORLD WAR, 1944, AND THE INDEED LEGENDARY 1961, WHICH TRAVELLED TO THE USA IN THE 1960s, AND RECROSSED THE ATLANTIC IN 2010 TO NORTHAMPTONSHIRE, ENGLAND. See Below
THE LEGEND OF 1961 HERMITAGE LA CHAPELLE
OR WHY BORDEAUX BLENDED HERMITAGE INTO THEIR TOP WINES FOR 150 YEARS
AND A TRIBUTE TO ITS ARCHITECT, LOUIS JABOULET, WHO DIED 23 NOVEMBER, 2012, AGED 100
1961 La Chapelle carries an enormous mantle on its shoulders - the single most famous Rhône wine ever. It has excited and enthused wine lovers around the world, starting on a confidential level inside the Rhône during the 1960s, and gradually spreading overseas. Its early reputation was high, but it was regarded as a one-off triumph, with other vintages of La Chapelle respected but not scrambled over.
FARR VINTNERS in London have always traded 1961 La Chapelle, with STEPHEN BROWETT telling me in the early 2000s: "It is up there with 1945 Mouton, 1947 Cheval Blanc, 1961 Pétrus." He might have mentioned the wines of DRC as well, for that matter. Into the 1970s, it was a rare wine, but had not escaped the attention of one eagle-eyed investor - Remington Norman, who later wrote a book called Rhône Renaissance, which did a good job of comparing Rhône wines with New World wines made from Rhône varieties.
I had a small collection of bottles in a cellar in London at the time, and one day went along there to check something and take out a few bottles to save on the delivery costs. I climbed up to a mezzanine level, and en route to my little huddle of boxes passed case after case of Paul Jaboulet Aîné (as I remember in white cardboard, not wooden cases) La Chapelle 1961 with the letters R NORMAN marked by hand on them.
I couldn't believe my eyes – there must have been ten cases, maybe more, and my thoughts immediately turned to the story of Nelson Bunker Hunt, racehorse owner and silver speculator, who had tried to corner the market in silver in the 1970s – and failed. As it turned out, these cases were subsequently sold after investors in Lloyds Insurance of London (called "names") took heavy losses after a string of natural disasters.
When I first visited the Rhône in June, 1973, Paul Jaboulet Aîné was run by LOUIS JABOULET, called "Monsieur Louis" by all and sundry, who reached 100 years old in June 2012, a true patriarch, a valiant fighter until his death on 23 November, 2012. The newly restored Church in Tain will be full to overflowing at 3pm on 28 November, 2012. He was a real jouster with me, and was much loved by his team at Jaboulet.
Momentum around the world was provided by Louis's globetrotting son GERARD, while the manager of the business was a gentleman called THOMAS MOREL. There was a management structure that for its day was pretty up to date, therefore.
As many cities have passionate football team rivalries - think of Juventus vs Torino or Liverpool vs Everton or Flamingo vs Fluminense in Rio - so Tain l'Hermitage had one big rivalry, that between the House of Chapoutier and the House of Jaboulet. Jaboulet had two branches - Paul Jaboulet Aîné was the true Rhône family, with another set of cousins who had moved north to Burgundy, the House of Jaboulet Vercherre. Most of the Rhône wines handled by Jaboulet Vercherre from the 1970s were merchant produce, and my recollection of their Burgundy line was one of often chaptalised, ordinary issues. Before the 1970s, Jaboulet Vercherre wines have turned up – from the 1950s and earlier, for instance, that have been rather good.
Like Jaboulet, a Cornas family, Chapoutier were an Ardèche family, whose patron in 1973 was MAX CHAPOUTIER, the son of MARC CHAPOUTIER. Extremely well-intentioned, Max had caused controversy by marrying a German girl in the aftermath of the Second World War, given that his father's wife had been held by the SS in Lyon under Klaus Barbie, the notorious torturer.
Max held singular ideas about how the family wines should be raised and sold. Looking back, his notions were exactly the opposite of where the market was destined to go. Hence, the ageing in chestnut casks – chestnut being the wood of the Ardèche – and his insistence on Non Vintage wines. Max used to tell me that "the public want consistency in their wines, so we try to even out the differences between vintages by blending." The first action taken by Michel after he took control of the firm in 1990, he told me gleefully, "was to burn all those **** chestnut casks!"
Some of the fun for the keenos of the day (of whom I most certainly was one) lay in spotting what the wine in the Chapoutier bottle really was. The Chante-Alouette white – the single white Hermitage before all the climat-specific wines were introduced by Michel Chapoutier – was a case in point. There were tiny Roman numerals down in the corner of the label, and if one saw or bought enough of the wine, it was possible to deduce the sequence of the wine. Once you knew the first reference point, you could date them accordingly as the numerals extended from LX to LXV, for instance.
In terms of profile, progress and renown, Chapoutier were not going anywhere fast in the 1970s; their flourishing days had been pre-Second World War, when their liaison with Berry Brothers in London gave them a great British platform, as well as followers in the United States. Walter Berry writes of this in his book "In Search of Wine".
Chapoutier ambition was a bit folksy, thus, with a strong network of distribution in all the best Rhône restaurants of the day, from the three star heavyweights of Fernand Point at Vienne and Jacques Pic at Valencedown to the thriving one stars at Tain, Saint-Hilaire de Rosier and Beaurepaire. Many was the dinner eaten in local restaurants in the company of a Saint-Joseph Deschants or Crozes Les Meysonniers.
LOUIS JABOULET was fully aware of this wide horizon faiblesse at his rival's, and, as a busy entrepreneur, took advantage to further the interests of his family firm. Paul Jaboulet Aîné had re-started the widening of their range in the late 1950s, so were active on that front, with purchases of Côte-Rôtie and Cornas. They also had a keen eye on the Hermitage vineyard, which in those days still contained small plots owned by local people.
So it came to pass that Louis built up a wonderful group of plots on the part of Le Méal that runs down below the line of cypress trees that have the PAUL JABOULET AÎNÉ sign next to them. This marks the old high point of the Rhône, with the fruit below the sign on silted, alluvial soils, whose fruit is more red and succulent, recalling deep strawberry, than the smokier, darker fruit above it on more rocky subsoils.
To supplement the family's own Méal vineyard of about 1.4 hectares on the east side of Méal, he proceeded to assemble strips of vineyard going west, those that touched one another, and could be worked with ease. Hence in the 1960s he purchased the 1.3 hectare plot owned by JABOULET VERCHERRE, followed by the 2+ hectare plot of the de BOISSIEUX family in the late 1960s, then MADAMEMOISELLE CHIERPE's 0.6 hectare Méal plot after her death in the 1980s. Her wine, the Cuvée des Moines, was made from two of the four most noble climats or sites at Hermitage – Le Méal and Les Greffieux. This was being shipped to the USA through importer and writer, the influential FRANK SCHOONMAKER.
When drinking the 1961 La Chapelle in March, 2011, it occurred to me that its shape and heart and longevity were formed around the Méal and its full-blooded contribution. As my third encounter with this wine – the previous ones were at Jaboulet and in a restaurant in the Isère in the early 1980s – on this occasion I crucially had more experience, and also more time to be single-minded about the wine, since the whole weekend had long been planned around this brilliant bottle.
The more one delves, the more there is behind the 1961 La Chapelle. For a start, there were several bottlings. One Jaboulet employee told me about one bottling being fruited, the other more dense. I am sure there were more than two bottlings. Further spice is added by the constant assertion from AUGUSTE CLAPE, over all the forty years I have known him, that his 1961 Cornas is present in the wine.
"I sold 15 to 20 hl (1,500 to 2,000 litres) of my Cornas to Paul Jaboulet in April, 1962," Auguste related recently - he was 37 at the time, trying to raise his domaine and Cornas to heights that they both merited. "The 1961 crop had been very small, but was extremely good. It was when the wine was very young that President Charles de Gaulle came down the road from Tournon on the N86, and stopped at Cornas. There were flics (cops) everywhere, all along the route, and two of them came in to our front garage where the wine was stocked. They said, "putain (son of a gun more or less), that smells good!"
"Our bottling was very limited in those days," he continued; "we small growers were paralysed by the merchant business – Chapoutier, Paul Jaboulet Aîné and firms such as Vérilhac and Dubourg at Saint-Péray notably – who had agents everywhere to sell their wines – shops, restaurants mostly. So we were left with a few private clients, which meant not much bottling."
Another eminent local grower with a similar long memory is also convinced that La Chapelle 1961 – thanks to its several bottlings – contains some of Madamemoiselle Chierpe's Hermitage red, which was always led by Le Méal.
These tales are in effect a twentieth century version of the old story that exists between Bordeaux and Hermitage. The patrician Bordeaux, open to foreigners, sea port at the ready, contacts in high places across Europe, using the wine from the poor, landlocked but sunnier Dauphiné to boost and bolster its leading wines. As discussed in my book, "The Wines of the Northern Rhône", Bordeaux used Hermitage, and sometimes Cornas, to improve weak vintages (1822), or to ensure (and insure) that so-so vintages emerged full of roses (1831), or to make good vintages spectacular (1811, the Year of the Comet).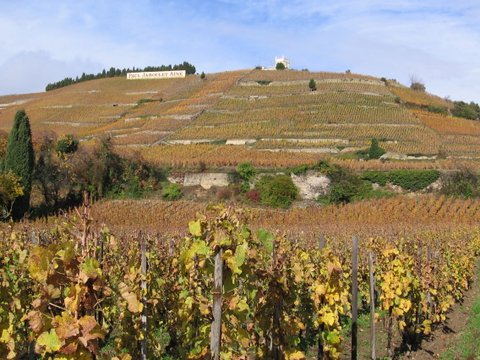 THE MAJESTIC LE MÉAL AND PAUL JABOULET AÎNÉ SIGN, WHICH MARKS THE OLD HIGH WATER LINE OF THE RHÔNE RIVER: THE HEART OF LA CHAPELLE, NOW DISCARDED
Now there is a particular irony about these recollections. When Paul Jaboulet Aîné was sold to the Swiss investor JACQUES FREY in late 2005, the most splendid Crown Jewel in the Jaboulet vineyard portfolio was their 6.8 hectares on Le Méal. This was the result of Louis' far-sightedness and drive in assembling that series of contiguous plots on Le Méal, with its brilliant sweeping, south-facing slope. Alongside that, the 2.6 hectares on Les Bessards were an excellent holding, but in much lower relief. Always an ideal Hermitage must have Bessards and its minerality to season Méal and its full, sunswept richness.
The vineyards were old, too – plots of 1940s and 1960s Syrah, along with 1990s plantings as well - so here was the heart of any good La Chapelle. Many people overlook the fact that La Chapelle is a brand, not a specific vineyard wine. There is a chapel, owned by Jaboulet, standing surrounded by Chapoutier vineyards – but the name is a registered one, a good moniker given the legendary view and all its noble associations.
Under the Jaboulet family, La Chapelle varied between holding 25% and 50% Méal, the latter in tricky vintages when ripening had been difficult; I can hear the alarm bells trilling chez Jaboulet – "quick, chaps, Méal to the rescue", very much in the vein of the Bordelais buying Hermitage in the nineteenth century to save their indifferent vintages.
The first thing that the Freys did when arriving in Hermitage was to take out the old vine plot on Le Méal. Bang, wallop. Out goes the historical heart of the legendary La Chapelle. Furthermore, the attitude since 2009 has been to actually sell off some of their Méal in bulk, with the equivalent of 9,000 bottles of 2009 going to my friend The Grec, GEORGES LELEKTSOGLOU of the Compagnie de l'Hermitage on the Place du Taurobole at Tain. He calls this his Cuvée des Moines, which was the name of Madamemoiselle Chierpe's wine in days gone by.
It is said that the new owners initially found the wine of Le Méal too overpowering for what they wanted as their Hermitage La Chapelle. "It is said" is because I have to obtain my information from my spy network, since I have not been allowed to taste chez Paul Jaboulet Aîné since around 2008. Anyway, we might now as well as say goodbye to any notion that another 1961, or for that matter, 1966 or 1959 or 1964 La Chapelle can ever be our pleasure. It is a crying shame.
Other points to remember about La Chapelle in those far-off days: the wine was made from different parts of the Hermitage hill, led by the alluvial, south facing suntrap of Le Méal, followed by Les Bessards, the craggy, more windswept granite site to the west, as well as, in order of importance, Les Greffieux, Rocoules and La Croix, the last named an average quality plot at the far east end of the appellation, near apricot trees and Crozes-Hermitage appellation vineyards. There was no such thing as "the same wine" every year, thus. Percentages varied.
Vinification was whole bunch fermentation, as was done with all wines then. Note also: open wood fermenting vats, no temperature control, and no use of cultivated yeasts; a process of two or more weeks. Manual cap punching, and nothing like the anti-oxidation processes of today that encourage the Syrah's tendency to reduce. Raising for at least two years in used, hopefully well-cleaned, sulphur heavy at times 225-litre oak casks. Filtration was the norm.
The weekend was a homage to La Chapelle, with bottles assembled of different vintages ranging from the noble to the obscure. The oldest bottle was a 1944, purchased from the Harris family of the Bell at Aston Clinton, in Buckinghamshire, west of London, in the mid-1970s for the same price as a bottle of 1961 La Chapelle at the time. I contributed a bottle of the first Hermitage La Chapelle vintage I witnessed, the 1972, a hail-struck year with a tiny yield, seen and tasted from cask with Monsieur Thomas Morel, the PJA manager.
The heavyweight vintages of 1978 and 1990 were there to strut their stuff, as they did on the Saturday evening, while the refusenik year of 1983 had to be given further inspection – still a pinched, troubled soul, it was.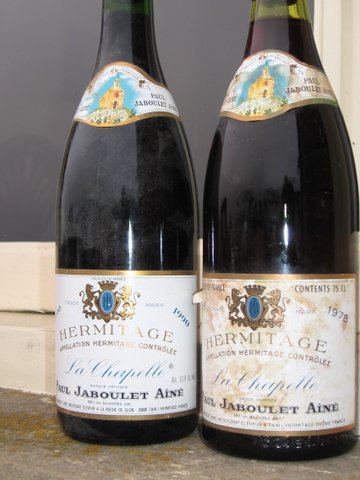 THE YOUNG PRETENDERS: 1990 AND 1978 HERMITAGE LA CHAPELLE, BOTH WIZARD, THE 1978 SUPERIOR
The line-up on the Saturday evening 26 March 2011 was, in order of appearance:
After a walk around the fields near the English Civil war battle of Naseby (1645), the last hurrah of the Royalist Prince Rupert, the Sunday lunchtime line-up was as follows:
La Chapelle 1961 lives on, then, carrying its aura with it. It will still have amateurs swooning over it in decades hence. This was a spectacular encounter, charged with memories for me, and one that I have eventually written about! For those wanting to rush out and purchase a bottle, it was auctioned at Sothebys in Hong Kong in December, 2012. The FREY family released three bottles for the auction: these sold as one lot for the price per bottle of HK$ 171,500, which, when I tap in the exchange rate comes out at about £13,600 or US$22,000. Well, there you go.