DOMAINE DE LA PÉQUÉLETTE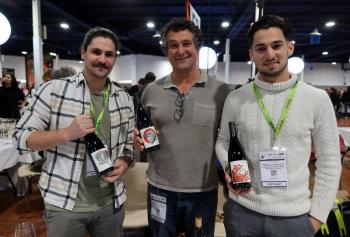 LVT 2017 r This is a biodynamic domaine that I recommend strongly if you seek wines of character and a hand made feel. Cédric is well motivated, the fifth generation; he and his wife left the Co-operative La Vinsobraise in 2004, and started to make their own wine in 2005. His yields are restrained - 20-25 hl/ha for the Vinsobres and 35 hl/ha for the Côtes du Rhône.
The wines are vinified with low intervention, raised in concrete, and represent the best biodynamic clarity - they have a real spring in their step. The Vinsobres Emile red's oldest Grenache dates from the 1930s, and is usually **** to ****(*) wine. The limited edition Les Muses, max 1,500 bottles, comes from small terraces on Les Cornuds at 450 metres, where the cool soils allow the Syrah [half the wine, the other half Grenache, both 1970s] to really declare its style, clarity and quality, far away from the confection so often found in the Southern Rhône. The 2016 is just about a ***** wine, top notch Vinsobres, thus. In line with the economic realities of Vinsobres, a hard wine to sell, the volume of Vinsobres in bottle has fallen recently.
Cédric also has truffle and olive trees, and in 2018 planted 0.5 hectare of white vines behind the house, half Bourboulenc, 25% Clairette blanche, 25% Grenache blanc.
Cédric & Anne-Marie Guillaume-Corbin Le Plan de Moye 26110 Vinsobres
Tel: +33(0)475 27 68 69
Countries exported to:1) Belgium 2) Quebec 3) GB 4) Switzerland 5) - before was 1) Canada (Ontario) 2) Denmark 3) Germany
Percentage Exported: 50%, up from 30%
British Importers: Vine Trail The Poland Building Aardman Animations Gas Ferry Road Bristol BS1 6UN +44(0)117 921 1770 www.vinetrail.co.uk enquiries@vinetrail.co.uk
USA Importers: N/R