SYLVAIN BOCK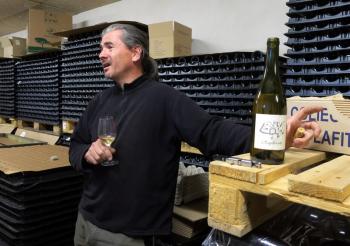 LVT 2018 r 2018 wh Sylvain was born near Lyon, then grew up in Vienne, near Côte-Rôtie, and made his first steps in wine with the 1998 harvest for Yves Cuilleron of Les Vins de Vienne, then pruning for François Villard and being a cellar rat in the cellar of Pierre Gaillard, the other members of Les Vins de Vienne. He remained there until 2003, when he moved to Jean-Michel Stéphan of Côte-Rôtie, followed by studies at Mâcon, and trips to New Zealand and Bordeaux.
From 2005 to 2007 he spent an illuminating time at the Domaine du Pradel of Olivier de Serres at Mirabel in the Ardèche, a 150 hectare property in polyculture – vines, cereal, livestock, dairy. This is an Institute for education in agriculture, the lands bought by Olivier's namesake in 1558! Sylvain looked after the vines and vinified there for five years, widening his experience of varieties, there being 10 different ones.
His first vintages from 2010 were made in an old building of compacted earth, the press outside, with bottles stocked at Le Mazel, an arrangement that lasted around five years. In those days, he was working a rented 4 hectares organically, producing around 120 hectolitres. Since 2014, he has worked 6.5 hectares, another 2.5 hectares taken on from basalt soils at Sceautres. The vineyards are organic. In 2016 he built a new cellar. Owing to the shortfall in 2016 and 2017, when he was hit by hail, he created a small merchant business – négoce – in order to secure production, which included buying some harvest from Mazel.
Vinification is classic Vin Nature - wild yeasts, zero added SO2, plenty of carbonic maceration, vat or minimum 4 year old oak cask raising, no fining nor filtration. The wines are all Vin de France.
From 2018, Sylvain no longer shows the vintage on the bottles: "there's too much paperwork involved." The clue is the back label code which shows the year – L2018 etc. He is a real Questor, always seeking a solution to new challenges, and works with great flexibility, according to the conditions presented by each vintage. Thus, his most recent L'Equilibriste Chardonnay reads 16-17 on the label, since it's 60% 2016 (very ripe, hail affected, 40% 2017, harvested early deliberately to provide acidity).
I rate these wines highly - they will appeal to Thinker drinkers who like provocation and the stimulus of thought from the glass. The Grenache from the basalt is called Neck, the 2018 an STGT **** upbeat wine containing iron fissure moments and serene layering. The 100% Merlot is called Suck a Rock, the **** 2016 having a naked, Burgundian take, full of interest. A blended wine is Les Grelots - 40% Grenache, 40% Merlot, 20% Syrah - like most of his reds fermented by macération carbonique, the Grenache vat raised, the Merlot-Syrah oak raised. The 2017 is a rather handsome **** wine.
Quartier Terre Pointue Le Village 07400 Alba la Romaine
Tel: +33(0)6 85 23 04 57
British Importers: Beattie & Roberts 14a Mountgrove Road London N5 2LS www.beattieandroberts.com
USA Importers: T Edward Wines 66 W Broadway #406 New York NY 10007 +1212 233 1504 tedwardwines.com info@tedwardwines.com