LA FERME DES SEPT LUNES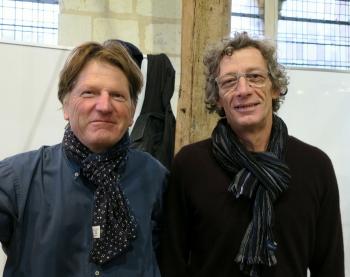 LVT 2018 r 2017 wh Biodynamic since 1997, although not on the label. It is in theory an STGT domaine. Here there is unhurried winemaking, with a good backdrop of mature vineyards, and no young oak. SO2 use is zero or very little. The wines are elegant and carry a well-founded simplicity. They offer the true appeal of Syrah from the Ardèche. The Vin de France Syrah is a VALUE wine, and in 2017 was also w.o.w. It is best to decant the reds, and some of the whites, before drinking.
In 2017 Jean entered an association with Jacques Maurice [pictured, right], who had been a Co-operateur with the Sarras Co-op, a poorly run entity that "fused" with Saint-Désirat some years ago. Jacques has been organic since 1997, with production of apricots and some pears as well as his vineyards of 1.5 ha of St Jo Syrah, 1.05 ha of white St Jo (2/3 Roussanne, 1/3 Marsanne), 1 ha of Viognier vin de pays and 0.5 ha of Roussanne vin de pays.
Jean Delobre Jacques Maurice 480 route de la Vallée Charbieux 07340 Bogy
Tel: +33(0)475 34 86 37
Countries exported to:1) Japan 2) USA 3) Quebec 4) Switzerland 5) Belgium 2009: 1) Japan 2) USA 3) Quebec 4) Belgium
Percentage Exported: 15%, down from 40%, which had been a rise
British Importers: N/A
USA Importers: Petit Monde Wine Merchants 2915 Martin Luther King Blvd Portland OR 97212 +1503 437 2079 www.petitmondewine.com has been Domaine Select Wine & Spirit 105 Madison Ave 13 Floor New York NY 10016 +1212 279 0799 for NY/NJ/CN, CA www.domaineselect.com