DOMAINE JEAN-CLAUDE RASPAIL and FILS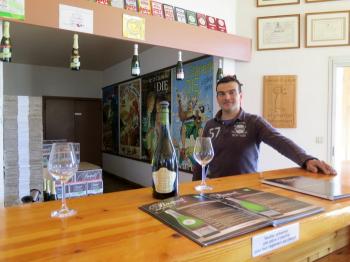 LVT 2015 r 2014 wh Top address at Clairette de Die. Organic since 1997, with both father and son having worked in Champagne. Frédéric [pictured] studied at Mâcon Davayé, and then worked between 1995 and 1997 chez Bollinger. Saillans is an early ripening area so does well in years such as 2014. The family have been moving away from flatland vineyards in favour of hillside or slope vineyards in recent years. The Raspails are the last family to decant on the pupitres rather than filtering after the take-on of mousse. The Clairette is turned by hand (remuage).
The 100% Muscat Clairette de Die Must and Crémant de Die Cuvée Flavien are very good, and the whole range presents consistent quality. The Raspails also make a good vin de pays Syrah from a well situated and recently revived hillside called La Roustière and a lively but well founded Chardonnay vin de pays, based on 1986-88 vines. They also have a holiday home for 2 to 4 people.
Jean-Claude, son Frédéric Raspail, Annouck Domaine de la Mûre Route de Die 26340 Saillans
Tel: +33(0)475 21 55 99