DOMAINE DE LA JANASSE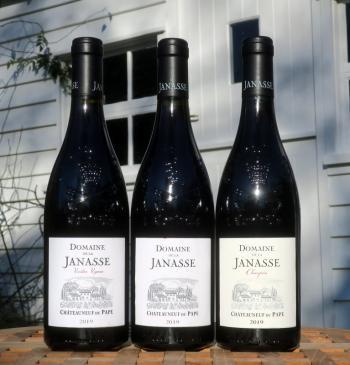 LVT 2019 r 2011 rosé 2018 wh Top class estate, deep wines, prices now rather high. The vineyards are centred on Courthézon and its sandy soils in the North-East of the appellation. The Châteauneuf reds beyond the Tradition are punchy, can be glamorous, can be powerful.
The Chaupin is perhaps more interesting than the Vieilles Vignes; 100% Grenache [1912 to 1940s] from sandy soils, 80% on Chapouin, which is north of the road from Roquemaure to Courthézon, it carries complexity and some of the Grenache floral attributes, especially when grown on sand. The 2019 was **** wine, for example, the best in recent vintages. The Châteauneuf Vieilles Vignes red is made with 10-20% Syrah, Mourvèdre and a touch of some white varieties; it is from Chapouin and Coudoulet (60%), La Crau de Courthézon and Les Saumades (40%), the Grenache 1900s-1940s. It is rugged, Southern, with that Mourvèdre imprint of firmness, and benefits from long ageing. 2013-2014-2015-2019 were ****(*), the 2016 *****.
The Côtes du Rhône reds are full of character, from classic garrigue soils and mature vines. In 2015 the family bought a Côtes du Rhône domaine at Jonquières, the Clos Saint Antonin; this produces Côtes du Rhône and Plan de Dieu Villages reds.
Christophe, sister Isabelle, father Aimé Sabon 29 Ch du Moulin 84350 Courthézon
Tel: +33(0)490 70 86 29
Countries exported to:1) USA 2) GB 3) Germany
Percentage Exported: 55%
British Importers: The Wine Society, Stevenage, +44(0)1438 737700, www.thewinesociety.com Berry Brothers London www.bbr.com Enotria Winecellars London Chandos Road NW10 6NF +44(0)208 961 4411 Alexander Wines Deanside Rd Hillingdon Glasgow G52 4XB +44(0)141 882 0039
USA Importers: European Cellars, Eric Solomon, 2129 E 7th Street, Charlotte NC 28204 +1704 358 1565 www.europeancellars.com philippe@europeancellars.com