DOMAINE GILLES BARGE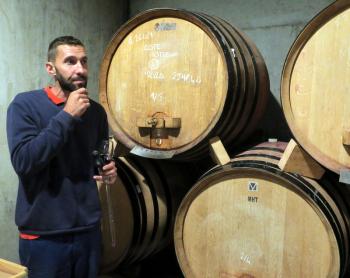 LVT 2017 r 2016 wh This domaine gives a prime example of traditional, whole bunch fermentation Côte-Rôtie. The wines are very consistent. Du Plessy is more aromatic, the Côte Brune has good muscle and breeding, and ages well. The Le Combard Côte-Rôtie, from the southern sector, fits in between. Started in 2007, it was joined in 2013 by a derivative from the centre of Combard called Côte-Rôtie Coeur de Combard, a 2,000 bottle issue that impressed me with its pedigree and complexity in 2017, when it was a ****(*) wine.
The Côte Blonde, introduced in 2013, has been a ****(*) wine when made in 2013, 2015 and 2016. The Condrieu and Saint-Joseph contain good fruit. A tasting of 2007, 2004 and 1996 Saint-Joseph red in May 2013 revealed that the wine stays well, especially in the higher acidity years. Son Julien is interested in the whites, and they have gained freshness and better balance as a result. He has lowered their dosage of SO2, and is working with more detail in the vineyard and less intervention in the cellar.
Gilles & son Julien Barge 8 Blvd des Allées 69420 Ampuis
Tel: +33(0)474 56 13 90
Countries exported to:1) GB 2) USA 3) Belgium
Percentage Exported: 35%
British Importers: The Wine Society Stevenage SG1 2BT +441438 740 222 www.thewinesociety.com Liberty Wines 6 Timbermill Way Gauden Road London SW4 6LX +44(0)207 720 5350 www.libertywines.co.uk customerservices@libertywines.co.uk
USA Importers: Bradley Alan Imports, Bradley Cohen, 347 Fifth Avenue #1012, New York NY 10016 +1 917 476 7578, +1212 679 5775, fax +1212 679 3366