DOMAINE CHRISTOPHE SEMASKA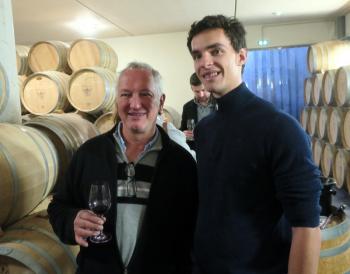 LVT 2015 r 2014 wh This domaine is making gradual progress, with Christophe Semaska gaining confidence in his own abilities, and less reliant on heavy vinification techniques. The domaine operates on a rolling 18 year rental contract on the 8 hectares of land at Montlys with the family who own the Château de Montlys. This acts as a constraint on his development of scrub land into vineyards, should the contract not be renewed. The location at the most northern end of the appellation means its wines can contain noted tannins, and rely on good ripening years to flesh themselves out.
The Fleur de Montlys delivers a little more body than the classic. The big new arrival is the Côte-Rôtie Lancement, made from 1972 Serine, massale vines. First made in 2012, the 2013-2015 have been ****, ****(*) and ***** wines. There are two Condrieus, both good quality. Christophe has also produced merchant wines since the 2000s, including a Côtes du Rhône Villages that from 2011 to 2014 was Cairanne, and from 2015 will be Visan, and two Rasteau reds, both oak raised. He has planted Syrah near Vienne at St Alban les Vignes, the wine a Coteaux de Vienne vin de pays. In 2012 a new cellar was built next to the N86 road.
Christophe Semaska 54 rue de Montlys 69420 Ampuis
Tel: +33(0)474 58 39 17
http://www.domaine-semaska.com
Countries exported to:1) PR China 2) GB 3) USA 4) Belgium, Switzerkand, Germany – before was 1) USA 2) Denmark, rising 3) Japan 4) Belgium
Percentage Exported: 20%
British Importers: Decorum Vintners Unit 1 The Shaftesbury Centre 85 Barlby Road London W10 6BN +44(0)208 969 6581 www.decvin.co.uk , Clarion Wines +44(0)208 747 2069 www.clarionwines.co.uk info@clarionwines.co.uk The Wine Society Stevenage www.thewinesociety.com
USA Importers: J A O Wine Imports, John Otterbeck, Mc Lean, VA 22101-6018, +1 703 848 2473 Grape Expectations 1091 Essex Avenue Richmond CA 94801 +1510 412 5969 www.grapex.com Patrick Allen Selections www.patrickallenselections.com