2019 NORTHERN RHÔNE CLOSE-UP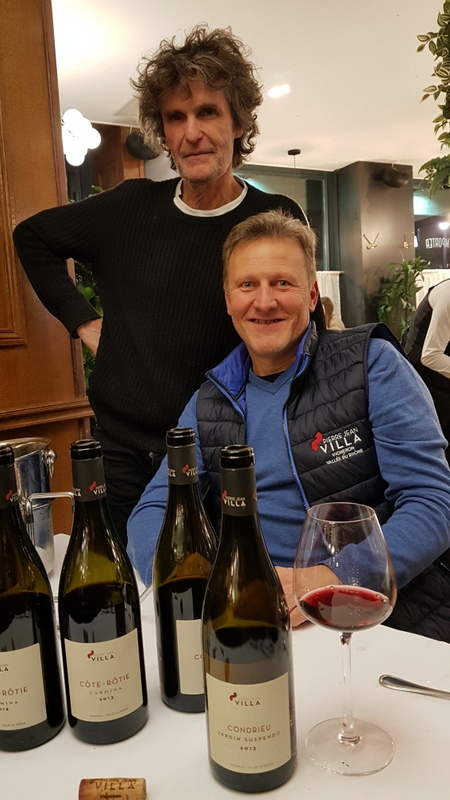 IN PRAISE OF 2019 OVER 2018: YVES GANGLOFF [L] "BETTER TANNINS", PIERRE-JEAN VILLA [R] "MORE COHERENT BALANCE"
2019 CÔTE-RÔTIE
So much in life, and especially business, is about timing. Fortunes are made with good timing, on start-ups, for example, while good money is lost if a sound idea is launched at the wrong time.
2019 saw the CÔTE-RÔTIE growers favoured by particularly well timed rain in August, which was a lifeline for previously stressed vines, and in time for the final stretch of their ripening to be well conducted. Water and sun, thus, which was how CÉDRIC PARPETTE put it: "2019 is a top year, one with water and sun, and a yield of 38 hl/ha, against 30 hl/ha in 2018, which is a more tannic vintage. The 100 mm (4 in) of rain on 15 August was needed, and served us well. I started the harvest on 8 September, the SYRAH at 13.4°, rising fast. There is a bit less tannin than in 2018, and it's more like the wines of CÔTE-RÔTIE from 20 years ago, with supple features."
VITAL AND BENEFICIAL AUGUST RAIN
The chorus of contentment from the growers for the year surrounded this rainfall. PIERRE-JEAN VILLA: "what really helped in 2019 were the two rainfalls in August between CHAVANAY and CÔTE-RÔTIE, the northern sector of the NORTHERN RHÔNE. There was 40 mm (1.6 in) at the start of the month, then CHAVANAY received another 45 mm (1.8 in) in mid-month, and CÔTE-RÔTIE around 8 mm (0.3 in); SEYSSUEL had falls of 40 mm, then 15 mm, but CROZES-HERMITAGE was dry in August 2019. My degree was 14°, and the pH 3.65. 2018 was a year very much based on the vintage effect, so I am happy to have a more coherent balance this year, and a good yield of 40 hl/ha."
HARVEST SIZE HELPED, TOO
The harvest size was another factor in restraining the vintage; as the organic, low to zero SO2 practitioner JEAN-MICHEL STÉPHAN put it: "the large harvest helped the pH in 2019 – we avoided a full solar impact from the 35 hl/ha at least yield."
MAXIME GOURDAIN of DOMAINE DE ROSIERS also lauded the rain, telling me: "there was a blockage of ripening in August, but the rain in the middle of the month saved us – there were two falls totalling 80 mm (3.2 in) to 100 m (4 in). The grass sprouted back up after we had cut it back. The degree ran between 14° to 14.5° against 13.5° and 14° in 2018. Since 2015 and the run of hot years, I have been working the soils more. In 2019 I tried zero herbicides in some places. You need to find the correct plant that doesn't compete with the vine, though."
SOME HIGH DEGREE WINES
STÉPHANE PICHAT, in the Northern sector, was categorical about the benefit of the August weather: "without the August rain, there wouldn't have been a lot of crop, there would have been alcohol and grapes that weren't ripe," he stated. "It was stressful, as we approached a catastrophe, but just sidestepped that, with rain at exactly the right time. My GRANDES PLACES is close to 15° - the 2018 was 14.2°.
I am very happy - the cuvées are all very different. My LÖSS is hyper open, while the others are reserved. I stepped up the whole bunch use from zero in 2017 to 30% in 2018 and all whole bunch in 2019. I had a bit of fear about going all whole bunch on CHAMPON'S in 2019, thinking it might have marked the wine too much, but without all the stems it would have been too soft."
X GÉRARD: "2019 DEFINITELY SUPERIOR TO 2018"
XAVIER GÉRARD is bounding along with a new cellar at CONDRIEU, and was very grateful for the rain, and the nature of it: "there was proper August rain, 180 mm from mid August to the 28th, at CÔTE-RÔTIE. CORNAS didn't have that rain. 2019 is a Grand Vintage, top notch. It's definitely superior to 2018, the acidities better, the balance more interesting. Ripening occurred through the leaves that remained green longer than in 2018, so that ripening was more regular in 2019. The August rain fell like spring rain, too – nice and gradually, and not a typical August storm which can be all over in 20 minutes - so it entered the soils really well.
I also want to add that experience of hot summers was limited before 2015 – there was 2003, and to some extent 2009. Then we have had 2015, 2017, 2018 and 2019. 2015 had a similar ripening by photosynthesis through the canopy as 2019, by the way. Growers have now learned to extract less from these very hot vintages, and that is helping quality."
GRAEME BOTT: "2019 MORE JUICY THAN 2018"
GRAEME BOTT, the New Zealander, ex chez STÉPHANE OGIER, who is making his and his wife JULIE's name known through very active social media work, told me: "2019 is dense, with juice. It's a bit more fluid, a bit more juicy, less compact, than 2018. The grapes were like peas before the August rain, which absolutely saved the vintage. 2019 is a touch lower in degree than 2018."
COLD SPRING WEATHER HELPED
RENÉ ROSTAING gave an acute comment on the context of the ripening season, and its effect on the evolution of the grapes: "we had two times more rain than usual in August 2019 – hence a normal yield. We started on 12 September; the gain in degree came in the next week. The cold spring helped in 2019 – which meant ripening started two weeks behind, and made the 2019 ripening a bit slower. Like in 2018, we harvested everything in 10 days."
Always about the last to harvest is JEAN-PAUL JAMET, who stuck to his usual ways this year: "we started the harvest 19 September, then had a rainfall of 20 mm (0.8 in) on the 22nd. We ended on 4 October. You had to watch out for oïdium this year."
HIERARCHY OF TERROIR, BUT LARGE RANGE OF DEGREE CHEZ BURGAUD
2019 is a vintage that flirts with the extremism of recent years, though, meaning that growers have to absolutely be on their guard in the vineyards. BERNARD BURGAUD joined his father ROGER in 1980, so has seen nigh on forty harvests. He gave this summary on the year: "2019 is even more muscled than 2018 – the harvest was early, very healthy, the degree high, the acidity low – there was a hierarchy of terroir, yes, but it's a bizarre year. The South wind broke some shoots, for example on MOUTONNES.
The early ripening zones were very ripe, but the later zones held more acidity. There was high degree on the plateau, the usual degree on the hillsides [which suffered crop loss, with cold weather at flowering], so the range was 12.5° to 15°. The hillsides and later zones 12.5° to 13.5°, the plateau at 15°, the average 14°. Our yield was 37 hl/ha."
ROCHAINS CLAY HELPFUL
KÉVIN GARON also referenced the uneven nature of the vintage from one site to the next: "there is more clay in the soil on ROCHAINS than LANCEMENT," he told me, "which helps its balance. 2019 was very heterogeneous across the lieux-dits – ROCHAINS is usually more dense than this. The 2019 acidity has fended off the degree. This year it was 13° to 13.5° on the plateau – usually it's hard to achieve 12.5° there. The range this year is 13.5° to 15.2° - LANCEMENT was 15° to 15.2°.
By comparison, 2018's range was 13.5° to 14.5°. Some say 2019 is superior to 2018; for us, 2018 is a bit ahead, but we'll see. It's more facile than 2018, is a bit like 2016 in its digestibility, with more alcohol. There is structure, good depth, belle energy in the glass."
FAST GAIN IN DEGREE
YVES GANGLOFF pointed to the recent phenomenon of extra fast take-up in degree: "on the 2019 SYRAH, the veraison (turning of colour) was early August, and we started on 16 September, about in line with that sequence. The crop was at 13.5° in early September, but ripeness came very fast – in 10 days there was a gain of 2° to 3°. My pH ended up at 3.80, the yield 40 hl/ha. I prefer the 2019 tannins to 2018's – there was extreme thickness in 2018, which has come after 12 months' raising, especially on CÔTE ROZIER."
PATRICK JASMIN had a similar tale to tell: "in 2019 I harvested on Monday 16 September; the weekend just before saw temperatures at 36°C, meaning a gain of 1.5° in degree, which I was harvesting at 13.5° to 14° at that early stage. Across my 11 plots, the average was 14.8°. with some at 15.5°.
Two vats were tricky this year – they slowed right down at 993, so I yeasted them, and got through OK. It's the first time I have had to yeast in my career, the 20 years since I started on my own in 1999, in fact. The VIN DE PAYS was at 14.5° this year. It's beau for the moment [Dec 2019], has acidity, a bit less richness than 2018; I prefer 2018 for now. The pH is 3.85 or so."
TO STEM OR NOT TO STEM
GUILLAUME CLUSEL of DOMAINE CLUSEL ROCH in the Northern sector found that he couldn't retain the usual amount of stems in 2019: "because of the very high heat in the first week of September, 2019, there was a blockage of ripening, so LES GRANDES PLACES this year had only 50% mixed between whole bunch and crushed whole bunch, instead of 80%. The stems weren't so good."
However, ALEXIS PICHON of DOMAINE CHRISTOPHE PICHON, whose vineyards are in the Southern sector, actually moved towards the retention of stems, stating: "we started to work with some stems from 2019 – 20% of of the CÔTE-RÔTIE COMTESSE, 15% on the CÔTE-RÔTIE PROMESSE, 10% on the CORNAS. The SAINT-JOSEPH red is still all destemmed."
An enthusiast for the vintage is STÉPHANE OGIER: "ripeness was very similar to 2018 on the level of balance in the two vintages. 2019 has more acidity than 2018, and the wines are a bit firmer, too. There is magnificent, superb concentration, with the solar side less marked than 2018 for now. 2019 pleases me a lot; its tannins aren't as powerful as 2015's – 2015 had enormous, very rich tannins. There is purity of fruit and tannins in 2019, more so than in 2017. If I made a direct comparison, 2018 is similar to 2016, 2019 to 2017."
LOUIS DREVON, patron of DOMAINE DE ROSIERS, started in 1981, and also gave high praise to 2019: "2019 is a top vintage, a GRANDE ANNÉE – it's balanced, fine. 2009 was very, very good, as were 2005 and 1990."
The first impressions of 2019 are therefore extremely good, even if the vintage has not yet settled into its stride. I expect tightening up to occur, so that the first flamboyance will become more clad by tannins and a relatively firm structure. However, there is real dash in the wines, lots of buzz, and a top showing from the best sites, with a potential fusion between terroir and vintage achievable without an endless wait.
I will be seeking to continue the interrupted tasting of 2019 CÔTE-RÔTIE in the autumn months, but wanted to post this "story so far" before then. All the wines tasted up until now have been the result of domaine visits which are not yet fully back on the agenda.
LEADING CÔTE-RÔTIE 2019s
| | | | | |
| --- | --- | --- | --- | --- |
| ***** | Stéphane Montez Les Grandes Places | 2055-58 | 02/20 | purring quality, stately, pedigree |
| ***** | Stéphane Pichat Les Grandes Places | 2055-57 | 02/20 | energy, flair, complexity, style |
| ***** | Domaine de Rosiers Besset | 2051-53 | 02/20 | lovely fruit, floral-iron length |
| ***** | Christophe Semaska Lancement | 2052-54 | 12/19 | full charge, life, much character |
| ***** | Jean-Michel Stéphan Cotx de Tupin | 2043-45 | 12/19 | balance, fresh, top drop, delight |
| ****(*) | Ben & David Duclaux Coteau de Tupin | 2054-56 | 02/20 | Rock n'Roll, verve, energy |
| ****(*) | Ben & David Duclaux Maison Rouge | 2053-55 | 02/20 | stylish gras, dense also fluid |
| ****(*) | Domaine Garon Les Rochins | 2049-51 | 12/19 | much finesse, gossamer touch |
| ****(*) | Christophe Semaska Fleur de Montlys | 2048-50 | 12/19 | rich, sustained, elegant fullness |
| ****(*) | Jean-Michel Stéphan Ctx de Bassenon | 2044-46 | 12/19 | intricate, nerve, fresh, firm |
| **** | Dom Clos de la Bonnette Damas Pourpre | 2037-39 | 12/19 | bright fruit, iron, joli |
| **** | Ben & David Duclaux La Germine | 2049-51 | 02/20 | suave gras, abundance, length |
| **** | Domaine Garon Lancement | 2047-49 | 12/19 | up-tempo, elegant, fresh length |
| **** | Domaine Jasmin La Giroflarie | 2045-47 | 12/19 | aromatic, good drive, fresh end |
| **** | François Merlin | 2045-47 | 12/19 | searching depth, dense, fuelled |
| **** | S Montez/Monteillet Bons-Arrêts | 2047-50 | 02/20 | engaging, fine, precise, Burgundian |
| **** | S Montez/Dom du Monteillet Fortis | 2047-50 | 02/20 | big depth, iron, crisp fruit |
| **** | Cédric Parpette Le Plomb | 2039-41 | 12/19 | charming fruit, compact, long |
| **** | Stéphane Pichat Champon's | 2048-51 | 02/20 | rich, prolonged, scaled, mass |
| **** | Stéphane Pichat Löss | 2035-37 | 02/20 | Rock n'Roll, expressive, floral |
| **** | Domaine de Rosiers Coeur de Rose | 2047-49 | 02/20 | free, zesty, tannic energy |
| **** | Domaine de Rosiers Drevon | 2044-46 | 02/20 | fruit gusto, drive, length |
| **** | Chr Semaska Château de Montlys | 2044-46 | 12/19 | polished, refined, neat freshness |
| **** | Jean-Michel Stéphan La So'Brune | 2042-44 | 12/19 | intricate, unusual, aromatic, structure |
| ***(*) | Dom Clos de la Bonnette Prenelle | 2035-37 | 12/19 | juicy, forward, loose |
| ***(*) | Cédric Parpette Montmain | 2038-40 | 12/19 | lucid, nerve, gradual gainer |
2019 CONDRIEU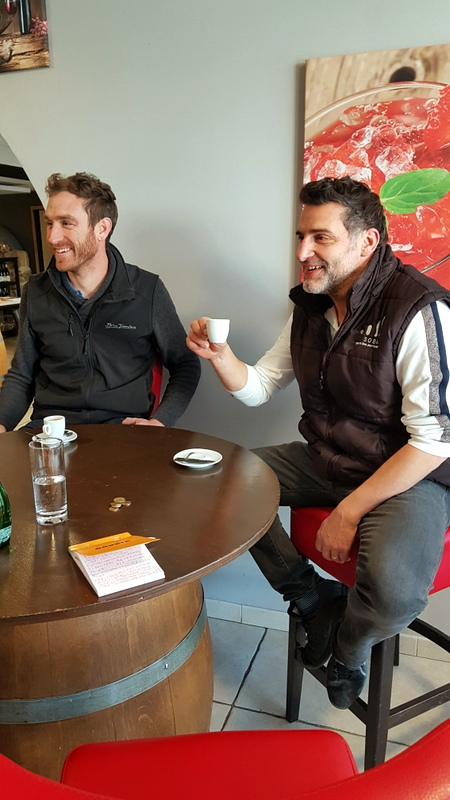 TIME FOR A QUICK COFFEE BREAK: XAVIER GÉRARD [L], STÉPHANE MONTEZ [R]
2019 CONDRIEU runs in tandem with the successful 2018 – the wines are firmly packed, pretty stylish, and long. However, the potential Achilles Heel has become the high level of alcohol in the wines, what I would term the biggest challenge now regularly facing growers.
Harvests can be prone to rot, mildew, other ailments, and can be treated. Such blights don't occur every year, either. However we are now in a realm where the VIOGNIER can gain 1° or 2° in there to seven days: there is absolutely no room for error, or excusing of delay in the harvesting process.
The whole supply line from vineyard to vat has to work like clockwork; a tractor breaking down, a cooling system on the blink, sheer lack of cooling facilities for the harvest at reception – all can cast handsome grapes into a turmoil of sugary excess, with Volatile Acidity lurking on the horizon.
2019 would have been very powerful had it not been for the mid-August rain, even if it came late for some, such as YVES CUILLERON, who told me: "what helped us in 2018 - the large harvest of VIOGNIER – did not come through in 2019, my yield at 35 hl/ha. Flowering was late which meant coulure [flowers not converting into fruit]. There is a bit more balance and freshness than 2018, though. Unlike 2018 which started with rain, 2019 started dry, but we had 100 mm (4 in) on 15 August, which came a bit late."
WORKING THE TERRACES ORGANICALLY
ISABELLE GUILLER of the all too rare organic DOMAINE DE LA CÔTE BONNETTE welcomed the August rain for her CONDRIEU and CÔTE-RÔTIE vineyards, the CONDRIEU right above the village of CONDRIEU close to the wonderful CHÉRY, at 300 metres. ISABELLE has 1.5 hectares on LA CÔTE BONNETTE, including very young vines. Its vineyard is graded in mini-terraces to allow soil working down to about one foot (30 cm), just taking out any big weeds, without breaking down the structure of the soils.
"It's SOUTH/SOUTH-EAST facing, so is hot," she explained; "we don't want the grasses and weeds to compete with the vines. We do a pre-pruning in December, and start the full pruning in February. Then towards the end of March we start to work the soils. That is done with a pick [pioche], by hand, and we also strim.
We do soil analysis to judge whether compost is needed, but it isn't usually. In 2019 we only did two light treatments, one copper, the other sulphur. They were pre and post flowering. We never do prevention treatments, and since 2009 have done no more than four treatments in any one year."
"In 2019, across three or four falls, we had 60 mm (2.2 in) of August rain," she related. "That saved the vineyard, whose ripening had been blocked. After such rain, the vines can gain 2° in a week, which was challenging for us – I wanted to avoid that fast rise, but it takes time to assemble the harvest team, while degrees are rising quickly. The result is that I may only issue one CONDRIEU in 2019, which will help to balance the degree, the range in 2019 running from below 14° to 15°. The pH is high this year, though."
FOR SOME, 2019 IS HIGH YIELD, HIGH DEGREE
JULIEN PILON started in 2010 with only white wines in his range, and has a sure hand with them. He is due to move into a new, larger cellar this year, having been resident in the old PATRICE PORTE cellar in a side street of CONDRIEU. His view on 2019 was: "2019 is a high yield, high degree year, 40 hl/ha and 15.2°. We were helped by the 60 mm (2.2 in) of rain in mid-August. We harvested on 10 September. There is less matter than 2018, and the wines are more sturdy, less fresh than 2018 as well. They will probably need drinking before the 2018s."
FRANÇOIS MERLIN also recorded a high yield in 2019, telling me; "2019 is a year of high degree; the VIOGNIER was at 14° when we first harvested, and at 17° by the time we finished. The rain in August meant things accelerated over just three days. Our yield was 42 hl/ha, full up.
To work on freshness, I now use 500-litre casks – to avoid the sugared side of the wine from smaller casks – do no lees stirring, and work under nitrogen and carbonic gas so the wine is inert when we are working with it. We also clean the casks by steam, very boiling steam, since with pH levels rising there's a danger of Brett." The steam cleaning is also done by ANDRÉ PERRET.
REGULAR RIPENING BY PHOTOSYNTHESIS ON THE CANOPY, MORE THAN SUN CONCENTRATION IN 2019
With caution expressed on the degree and the freshness by some, it was interesting to hear the skilled XAVIER GÉRARD's take on 2019, in which he highlighted the manner of the ripening – a comment that also applies strongly to CÔTE-RÔTIE and the Northern area of SAINT-JOSEPH around CHAVANAY.
"Budding was low this year, flowering OK, but not many grapes," he stated. "Ripening was slow, then accelerated a lot after 15 mm of rain on 13-14 September. 2019 has naturally higher acidity than 2018, and it's right to seek floral-mineral tones over fruit in style. 2019 is beau; there's good minerality, no rot, and if you overcame the sun and the over-ripeness, and discarded some harvest, you were OK.
The ripening was more regular in 2019 than 2018 – in 2018 all the grapes were golden, which is why I made a Vendange Tardive from Côte Châtillon in 2018, and didn't repeat it in 2019. The 2019 ripeness came from the photosynthesis of the canopy, rather than by sun concentration. 2018 and 2019 are in a similar vein, with a bit more acidity in 2019."
Growers did not report uniformity in the nature of their harvest, although dates clustered around 7 to 18 September.
SOME LOWER DEGREES THAN 2018
LOÏC JAMET, son of JEAN-PAUL and CORINNE, told me: "we harvested VERNON on 7 September, but ended the CHÂTILLON harvest in early October. The wine is 14°, against 14.5° for 2018." Their CHÂTILLON is on the East facing part of the vineyard at 300 metres, and is therefore cooler than the South-West facing part above the town of CONDRIEU – hence the late date of harvesting.
ANTHONY PARET, based at SAINT-PIERRE-DE-BOEUF, works vineyards there along with MALLEVAL and CHAVANAY, all South of CONDRIEU itself. He spoke well of 2019, and also remarked on a lower degree than 2018: "quality is very belle, and yields correct, too, so I am happy. The degree was 14.5°, less than 2018's 15°."
At the other end of the scale on degree was YVES GANGLOFF, who stated: "the degree is higher than 2018, the pH 3.9, quite high." He was thinking of a wine that would be best suited to early drinking. His chum PIERRE-JEAN VILLA had a better pH, though: "I am happy with 2019," he told me; "the degree is reasonable, and I have a decent pH also, 3.6."
CÉDRIC PARPETTE works with young – 2008 – VIOGNIER on vineyards overlooking the RHÔNE at SAINT-MICHEL-SUR-RHÔNE [so it does what it says on the tin]. For him, "60 mm (2.2 in) of rain on 15 August (there was 100 mm at CÔTE-RÔTIE) did us a good turn. I started the harvest on 10 September, the yield 40 hl/ha, high, the degree at 15.2°."
PRAISE FOR THE AUGUST RAIN
STÉPHANE MONTEZ, whose wines at DOMAINE DU MONTEILLET are full of buzz and flamboyance, was another vigneron more than happy with the rain, telling me: "the harvest was 18% down, but I'm very happy. We had some close shaves – the frost didn't hit, the drought didn't really hurt due to the 108 mm (4.3 in) of rain in August. We were very close to being taken out, though.
I started the harvest on Friday 14 September, but usually would have waited until the Monday following. But that was a week when the VIOGNIER gained 2° in those seven days. Anyway, the following week it was too hot to harvest past 13.00 hours, having started at 07.00. It's very concentrated, super beau, has a lot of malic acidity, and seems to have more acidity than 2018."
GUILLAUME BOISSONNET at SERRIÈRES has 0.8 hectare at LIMONY, the southernmost commune, and at CHAVANAY. His harvest dates were pretty regular compared to his colleagues: "flowering was precocious, the harvest, too, so we weren't far off the 100 day rule from flowering to picking. We started the VIN DE PAYS VIOGNIER on 12 September, the CONDRIEU VIOGNIER on 18 September, 2019."
BALANCE, THEREFORE NO EXCESS, A MUST IN 2019
In these early moments of assessing a vintage with wines tasted up to only five months' old, and amounts restricted for obvious reasons, I would rate 2019 as a good vintage, but one with an underlying profile of locked-up power – certainly a full-bodied year destined for la table. 2018 was good to very good, and 2019 will not be far from that. The tinkle of 2016 and 2014 seem a long way away following the run of very hot, dry summers, however, so for lovers of CONDRIEU it is essential that you seek balance in the wine you wish to buy – any hint of excess, be it ripeness or degree, should stop you from reaching for your credit or debit card.
SOME LEADING CONDRIEU 2019s
| | | | | |
| --- | --- | --- | --- | --- |
| **** | Dom Clos de la Bonnette Legenda Bonnetta | 2024-25 | 12/19 | muscled gras; spine, clarity |
| **** | Yves Gangloff | 2028-30 | 12/19 | elegant concentration, long |
| **** | Xavier Gérard L'Arbuel | 2026-27 | 12/19 | compact, muscular, fresh length |
| **** | Xavier Gérard Côte Châtillon | 2027-28 | 12/19 | refined gras, firm length |
| **** | François Merlin Jeanraude | 2028-30 | 12/19 | firm, sustained, thick jus, time |
| **** | Anthony Paret Lys de Volan | 2028-30 | 02/20 | suave gras, v good depth |
| **** | Christophe Semaska Lys d'Or | 2025-26 | 12/19 | refined, stylish, good control |
| ***(*) | François Grenier | 2025 | 02/20 | fat, glycerol, good juice |
| ***(*) | François Merlin Les Terroirs | 2026-27 | 12/19 | muscled depth, buttery feel |
| ***(*) | Anthony Paret Les Ceps du Nébadon | 2025-26 | 02/20 | vintage depth, some clarity |
| ***(*) | Cédric Parpette Piaton | 2024-25 | 12/19 | style in the gras, joli |
| ***(*) | Domaine de Rosiers | 2025-26 | 02/20 | rich, solar, layered |
| *** | Stéphane Pichat La Caille | 2025-26 | 02/20 | manly strength, spirity notes |
2019 VIN DE PAYS, VIN DE FRANCE, CÔTES-DU-RHÔNE REDS, WHITES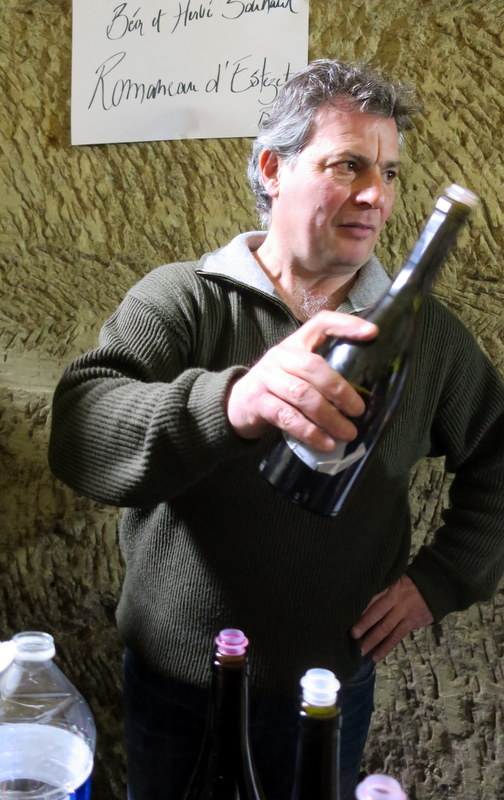 HERVÉ SOUHAUT, ROMANEAUX-DESTEZET: THE MAN WHO GOT THE GAMAY DE L'ARDÈCHE MOVING AGAIN OVER 20 YEARS AGO
The instant fruit of the VIN DE PAYS and VIN DE FRANCE wines from the NORTHERN RHÔNE in 2018 was most appealing right out of the vat - that sort of explosive fruit lent them to being immediately appreciated. 2019 comes with entertaining fruit as well, but there is a little more flair, greater freedom in the wines, and hints of structure that will allow them to stay in the game longer than the 2018s. 2019 is a more complete vintage.
The SYRAH-based reds are pretty sure-fire winners. I have also enjoyed the GAMAY wines that I have tasted. They are difficult to sell to a wide public, but, when hand made with care and sensible yields, they give great fruit and prompts of interest as well.
A GOOD VINTAGE FOR GAMAY DE L'ARDÈCHE
GAMAY is a long-established, traditional variety in the Western uplands of the ARDÈCHE, with HERVÉ SOUHAUT of DOMAINE ROMANEAUX-DESTEZET a pioneer in bringing it back into focus over 20 years ago – his GAMAY at ARLEBOSC dates from the 1920s to 1950s and is part of a fabric of picturesque meadows and gentle hills high up away from the RHÔNE corridor. It also includes harvest from the hamlets of COLOMBIER-LE-VIEUX and EMPURANY that fringe the DOUX VALLEY as that river runs through LAMASTRE on its way to join the RHÔNE at TOURNON. Soils are granite, sandy, gore.
My amigo JEF MALSERT of DOMAINE DE L'ISERAND – SAINT-JOSEPH, VIN DE FRANCE, amphore use, low to zero SO2 – has even planted massale, hand grafted GAMAY on gore soils 400 metres up at SÉCHERAS, one of the SAINT-JOSEPH communes. He bought the young vines from the premier source of such cuttings, LILIAN BERILLON, whse nursery is at JONQUIÈRES in the VAUCLUSE.
"The cuttings are from the BEAUJOLAIS, but I don't know precisely where," JEF told me. "There was a lot of colour naturally in 2019, my first year of it, because it was a hot year for the GAMAY. I kept the grapes under carbonic gas for five days, did a semi-macération carbonique with a few light cap punchings, vinified in steel, then raised all 8 hectolitres in one amphore.
GAMAY is a great, joyous variety – HERVÉ SOUHAUT showed how beau it can be when made locally; the wines give you the desire to have a drink, and that suave, simple style is what I seek. When I worked at the CAVE DE TAIN in 2005, they handled a bit of GAMAY, but weren't encouraging it as it didn't fit a sales profile of a range based on SYRAH, and its acceptance by them petered out."
A FEW GROWERS WITH TINY PLOTS ON GRANITE
JEF started with 0.3 hectare in 2016, and then took cuttings from those massale vines to plant a further 0.2 hectare in 2020 – on schist with a little clay - to make a more economic 0.5 hectare in total. That will move him from 1,200 to 2,000 bottles.
GUILLAUME GILLES at CORNAS also makes a GAMAY of character, based on the GAMAY DE SAINT ROMAIN; although not 100% sure about the genetic difference, GUILLAUME finds that the SAINT ROMAIN version gives "more colour, more structure than the classic GAMAY."
He actually calls his VIN DE FRANCE GAMAY DE LA VALLÉE DU DOUX, the vines dating from the late 1970s from two tiny sites, 0.3 hectare on COMBEAUC at COLOMBIER-LE-VIEUX (H SOUHAUT also there with GAMAY and SYRAH), and 0.3 hectare on MASSARDIÈRES at BOZAS, a little further to the South-West, and North of ARLEBOSC. They stand at 400 and 500 metres respectively, the soils young granite, very hard rock with fine sand top soils.
GUILLAUME launched this wine in 2011, but didn't show it to me until the 2017, which I found hard and unyielding. However the 2018 was another matter, to the extent that I vexed my very old friend CHRISTOPHER MOESTUE, premier non-State importer to NORWAY, when we visited GUILLAUME under a tight CORNAS schedule in December, 2019. "Why did you ask all those questions on the GAMAY?" he muttered as went on to see PIERRE GONON rather late at the end of a cold day. "Because the wine grew and grew on me, and I was fascinated," I replied. That's why he's a pecunious merchant, and I am an impecunious scribbler.
Another highly successful rendering of GAMAY comes from FRANÇOIS DUMAS, who is beautifully understated, allowing his organic wines to do the talking, and time to take its course with them. He worked at DOMAINE JEAN-LOUIS CHAVE, and has a 0.8 hectare patch of 1975-78 GAMAY – which he considers to be massale, not clone vines - on granite soils. His 2018 was a real little beauty, aromatic and fresh, a **** wine when tasted in February, 2020 – he is no rush to bottle it, allowing it 18 months in 4-5 year 228-litre oak casks to come together, just 1,200 bottles available.
I would therefore place GAMAY DE L'ARDÈCHE on your radar; importers will probably not be bold enough to ship it, but some strategic buying through a caviste or even a call to the domaine in question might pay off. It's almost all old vines' wine, and deserves an open-minded appraisal, handled as it is by dedicated growers with tiny plots.
2019 SYRAH BRIGHTLY FRUITED, ROLLING WINES
Elsewhere, the 2019 SYRAH IGP or VINS DE FRANCE are likely to surge with bright, rolling fruit, and are well worth tracking down. The w.o.w. category is busy this year, so if there is no tasting note, you can buy from a good name grower with a firm degree of confidence. One word on the tone of the year is in order, as well: the relatively high degree leanings of the wines, meaning that altitude played a large role, and cool, North facing soils as well. This is even more true, of course, in the SOUTHERN RHÔNE in 2019. JEF MALSERT was obliged to change his ALLIANCE blend from 50-50% GRENACHE-GAMAY to 15-85% this year - "to rein in the GRENACHE [which comes from CORBIÈRES]."
A HOT SUMMER FOR THE WHITES
Meanwhile, 2019 was a tricky year for whites if they were not from mature vineyards in good to noble locations. A wine that I usually unreservedly enjoy is HERVÉ SOUHAUT's VIN DE FRANCE DOMAINE DE ROMANEAUX-DESTEZET BLANC, 60% VIOGNIER, 40% ROUSSANNE, both planted at EMPURANY in 1993. They are two varieties that become floppy under the assault of high sun for prolonged periods, so their blend without any acidity or freshness contributors – in the SOUTHERN RHÔNE there would be BOURBOULENC, for example – leads to a stuffed wine, all fleshy, squeezy, ripe, but not much else.
There will be good examples here and there, but more careful selection will be needed for the 2019 whites at this level.
LEADING VIN DE PAYS, VIN DE FRANCE, CÔTES-DU-RHÔNE 2019s
| | | | | |
| --- | --- | --- | --- | --- |
| | 2019 REDS | | | |
| **** | Dom Clos de la Bonnette Coll Rh Syrah VV | 2025-26 | 12/19 | good fruit strike, iron |
| **** | Domaine Garon Coll Rh Seyssuel Syrah | 2030-32 | 12/19 | joli floral-fruit, elegant |
| **** | Johann Michel VdTble Grain Noir | 2024 | 12/19 | gd heart, length, joli, V |
| **** | David Reynaud Coll Rh Syrah Les Monestiers | 2022 | 02/20 | joli fruit, go go, gt w.o.w. |
| **** | Dom Romaneaux-Destezet VdFr Gamay | 2023 | 02/20 | fine fruit, pure, dainty, w.o.w. |
| ***(*) | Clusel Roch CdRhne Syrah Les Vergers Syrah | 2028-29 | 02/20 | clear tinkle, secure gras |
| ***(*) | Ferme Sept Lunes VdFr Gamay Glou | end 21 | 02/20 | engaging fruit, floral, w.o.w. V |
| ***(*) | Domaine Gonon Ardèche Syrah Îles Feray | 2033-35 | 12/19 | fresh drive, lively fruit |
| ***(*) | François Grenier Ardèche Syrah Les Jardins | 2024-25 | 02/20 | coated, full, exuberant |
| ***(*) | Dom de l'Iserand VdFr Maquerelle Syrah | 2025-26 | 02/20 | cool fruit, peppery, character |
| ***(*) | Domaine de l'Iserand VdFr Syrah | 2024 | 02/20 | dark fruit, iron, drive |
| ***(*) | Stéphane Pichat Coll Rh Proxima Syrah | 2034-36 | 12/19 | sunshine, full; much wine |
| ***(*) | Dom Romaneaux-Destezet VdFr Syrah | 2025-26 | 02/20 | peppery air, perfumato, tight |
| ***(*) | Domaine de Rosiers Coll Rh Syrah | 2026 | 02/20 | bright fruit, gusto, w.o.w. |
| *** | Domaine Louis Chomel IGP Ardèche Syrah | 2022 | 02/20 | fleshy, rocks well, v 2019 |
| *** | La Ferme des Sept Lunes VdFr Syrah | 2025 | 02/20 | wide, square, tarry fruit |
| *** | Domaine de l'Iserand VdFr Alliance | 2022 | 02/20 | sweet fruit, round, easy |
| *** | Domaine de l'Iserand VdFr Gamay | 2025 | 02/20 | light, gently floral, natural |
| *** | Erwan Masse VdFr La Robe Rouge Syrah | 2022 | 06/20 | enjoyable, fluid, zinc drinking |
| | 2019 WHITES | | | |
| **** | Domaine Gonon VdFr Chasselas | 2029-31 | 12/19 | calm gras, good sap, elegant |
| ***(*) | Xavier Gérard Coll Rh Viognier | 2024 | 12/19 | cosy gras, nice detail |
| ***(*) | François Grenier Ardèche Roussanne | 2022 | 02/20 | joli gras, character, salted |
| ***(*) | Dom de l'Iserand VdFr délire de Coppi | 2024 | 02/20 | rounded richness, la table |
| ***(*) | Anthony Paret Coll Rh Seyssuel Vionnae | 2027-28 | 02/20 | aromatic, curved, refined |
| *** | François Grenier Ardèche Viognier | 2022 | 02/20 | direct, then plump, sturdy |
| *** | Antony Paret Coll Rh La Cabane Sorcière | 2022 | 02/20 | savoury, well juiced, ripe |
| *** | Stéphane Pichat CdRhne Éremo | 2024-25 | 02/20 | satis gras, oak, citrus |
| *** | Stéphane Pichat Coll Rh Viognier | 2022-23 | 02/20 | thorough, mineral, sturdy |
| *** | Domaine Romaneaux-Destezet VdFr Vio/R | 2022-23 | 02/20 | fleshy, ripe, squeezy, early |
| **(*) | Dom Louis Chomel IGP Ardèche Marsanne | 2022 | 02/20 | soft gras, late tang |
| **(*) | Domaine de l'Iserand VdFr Chasselas | 2022 | 02/20 | raw, inner gras, acidity |