News
MID-APRIL 2012
news that the good Séguret DOMAINE DE CABASSE, which has run a restaurant and rooms for over 30 years, has been sold. The Swiss family Haeni and their fellow Swiss investors have withdrawn, and the estate has been bought by Monsieur Benoit Baudry from the Loire, a man who previously worked in Insurance. The tender style of their wines has been a pleasure to drink, and Nicolas Haeni will continue with 4 hectares at Séguret, high up behind the Domaine de Mourchon. The hotel will have a few changes, and is due to re-open in June, 2012.
ENTERED RECENTLY: a full review of 2010 CROZES-HERMITAGE REDS and WHITES, both very successful. Click on the 2010 NORTHERN RHÔNE tab, then the subtab THE LEADING WINES.
A good collection of 2010 CHÂTEAUNEUF-DU-PAPE WHITES has been entered, while around 25 2009 CHÂTEAUNEUF-DU-PAPE WHITES have been posted, with a definite upgrade after their bottling. The 2009s are rich and well-installed wines that are food-friendly; the 2010s are fresher. Look for the LVT 2009 wh or LVT 2010 wh tag for The Last Vintage of white tasted under the Châteauneuf-du-Pape domaines. The best 2010 VILLAGES and CÔTES DU RHÔNE REDS from these Châteauneuf-du-Pape producers have also been put up, following a February 2012 tasting.
Hot Weather
APRIL 2012
a surge of hot, stable weather has propelled the vineyards forward, and growers face the prospect of a dry year as well. Water reserve levels are low, as they are all along the eastern side of France and England; there are widespread parts of England that start hosepipe bans in the first week of April, 2012. for instance. Yes, England. Forage costs are rising, as they did last summer as well.
The charade known as Bordeaux 2011 primeur is about to kick off, with bitchy comments abounding about who has or has not got prior access to the wines. I fight hard to preserve the sanity of the Rhône in the British market, where magazines want immediate reviews that in turn only serve to give interest-free cash flow to wine merchants as punters buy their offerings up to 15-18 months ahead of delivery. I would signal two recent offers of 2010 Rhône, NOT 2011, from Haynes Hanson & Clark http://www.hhandc.co.uk/and Vine Trail http://www.vinetrail.co.uk/ The former - more a Burgundy, Bordeaux house, but good men of the Turf - have picked up the highly promising ROAIX estate of DOMAINE PIQUE-BASSE, while the latter remain a benchmark maison for hand-made, often organic wines of true character. Note their CAIRANNE ORATOIRE SAINT MARTIN, for instance.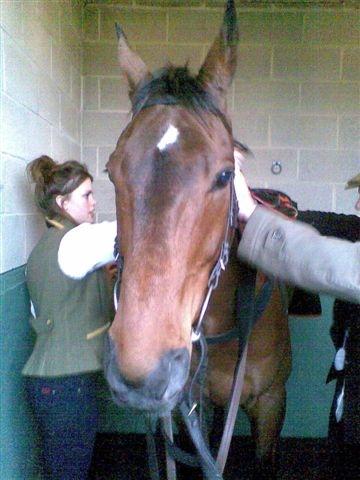 Cornas
APRIL 2012
ENTERED RECENTLY: see RECENT TASTINGS, and once logged in, click on 2011 ORGANIC RHÔNES for a tasting held in late March 2012 in Paris involving the longtime organic estates DARD & RIBO at CROZES-HERMITAGE, DOMAINE GRAMENON in the CÔTES DU RHÔNE and the more recent DOMAINE ROMANEAUX-DESTEZET at SAINT-JOSEPH. Also, more entries of 2010 CHÂTEAUNEUF-DU-PAPE REDS and 2010 GIGONDAS wines.
CORNAS (Cheval Mascot) ALERT: VineTrail pay a fair amount of the feed and keep of CORNAS, our Cheval Mascot, so we must report that he ran 8th in a field of 21 over 2 miles at Cheltenham in March. He travelled in the first four for much of the race, but younger legs got away from him on the downhill run towards the stands. His next mission will be in France. He ran at Cheltenham mainly because his trainer, Nick Williams, was busy saddling 4 horses at Cheltenham, and had no stable staff who spoke French available to take him to France. Next time I will ask for volunteers from readers who would enjoy a little sortie avec le Bon Cheval, plus some bistrot grub near Enghien. CORNAS being saddled pre-race at Cheltenham, March 2012, below: ALLEZ CORNAS!!